Red Deer Bathroom Renovations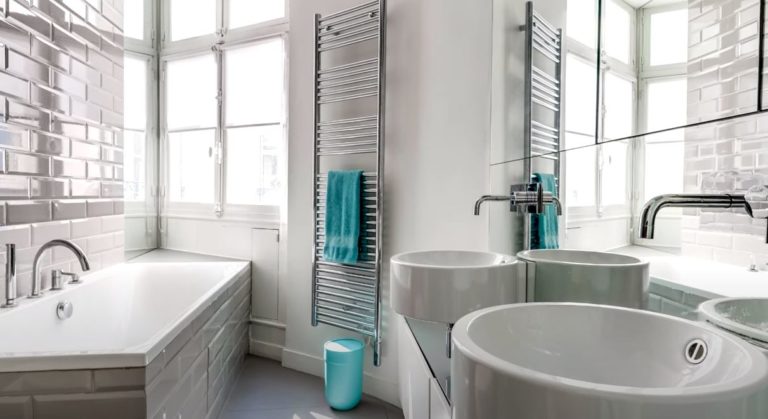 Whether you want to update your bathroom fixtures or create a personal spa, you can trust us to give a new look to your bathroom. We will create an up to date private room within your budget. Our Red Deer bathroom renovations team will take care of the design, painting, lighting configuration, plumbing, cabinetry, and hardware installation. We can also install your flooring, sink or faucet, shower door, countertop, and other bathroom accessories. 
Why Choose Us? 
Our residential renovation team will go to your place to get accurate measurements of your bathroom and determine the extent of the renovation that needs to be done. Our Red Deer renovations team will create different layouts for the bathroom and discuss the width and size of fixtures with you. Once you've picked a layout, we will help you choose finishes like the sink and bathtub based on your needs and lifestyle. 
Our bathroom renovations team ensures that everything is handled properly. We also provide free quotes, so you don't need to worry about hidden fees. Our Red Deer bathroom renovation experts can install different bathroom furnishings and fixtures to complement the style of your home. Bathroom renovations should be handled professionally, and that's what you can expect from us. We are here to help you create the ultimate place where you can relax.
Our Red Deer Bathroom Renovation Services Include:
Cabinets

Counter-tops

Flooring

Lighting

Sink

Toilet

Bathtub

Showers

Plumbing fixtures

Paint

Closet/Shelving
Red Deer Bathroom Renovation Process
The bathroom is one of the most personal areas in your home. That is why we work hard to create a bathroom that functions well and shows your style. The first thing that we do after getting a call from our clients is to visit their home to discuss their needs. 
We also take a look at their home to create a style that fits their personality and complements the existing design elements in their place. We consider specific needs for the new bathroom. If you want to install a bathtub or any specific fixture, we will consider it. The renovation process begins after the initial consultation. 
Don't worry because we take the necessary precautions when renovating bathrooms. We know that bathrooms are exposed to moisture and water. We consider these factors when renovating bathrooms. We assess everything that's added to the bathroom to make sure that it can withstand moisture.
It doesn't matter whether you want to downsize or expand your bathroom. Our Red Deer renovations team can help you make the most of the space you have. We will determine the right design elements that can maximize the function and space in your bathroom. We can recommend creative ways to add square footage to the bathroom. 
Our Red Deer bathroom renovation design specialists can show you the latest styles and trends in bathroom design. We will present renovation ideas and options that will improve the aesthetic appeal of your bathroom. Expect professional installation from our team. We handle everything from start to finish, including clean-up. You don't need to worry about removing any debris after the renovation. Your bathroom will be ready for use once the renovation is complete. 
Get a free estimate today! If you have any questions, feel free to contact us. We are always happy to help.